CAREER SPARK set has started! The fun begins tomorrow. Over 3000 local 8th graders will explore careers in education, technology, agriculture, healthcare, business, engineering, and more.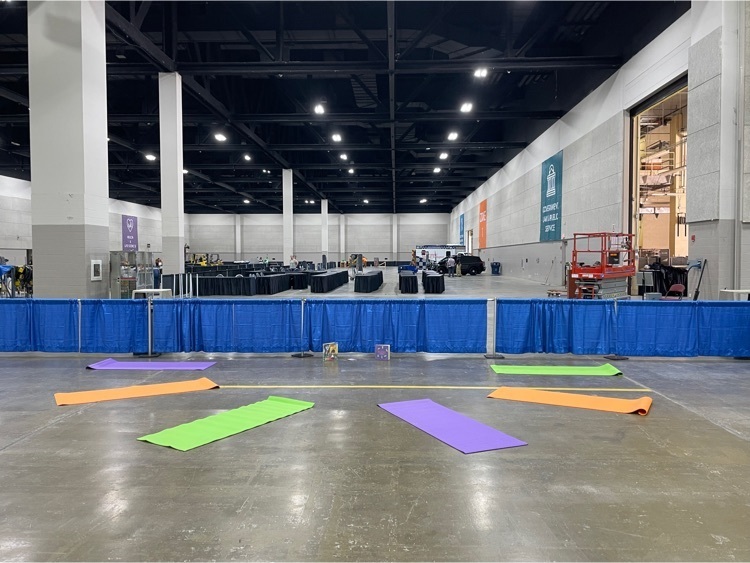 The second webinar in our Autism in Education series is tomorrow. This series is open to schools and the community so make sure you get registered today! 📌Educator PD, RN CEUs, SW CEUs and LCPC CEUs are provided for FREE! 💻Visual Schedules: bit.ly/105autism 💻Understanding Behavior & Overview of FBA: bit.ly/1026autism 💻ABI's Part 1: Behavior Support: bit.ly/119autism 💻ABI's Part 2: Communication and Environmental Support bit.ly/1130autism 🏫Make It & Take It: bit.ly/127autism

There's still time to sign up for the Behavior Threat Assessment Team training we are conducting with ROE 53 on October 18, 2022 at Five Points Washington from 8:30am-3:30pm. Please bring your own lunch. The training will focus on determining whether a person who makes a threat is an actual threat of committing violence, developing a plan of services to prevent a person from moving along the continuum of violence, and legal issues with information sharing. To register, complete the form at
https://bit.ly/3T9bjVN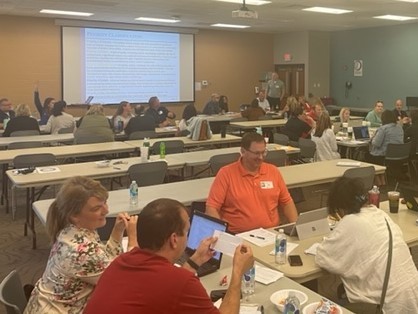 October 02 is National Custodian Appreciation Day! Custodians work tirelessly to keep schools safe and healthy. Please take time this week to thank the custodians that work in our schools for all of the work that they do!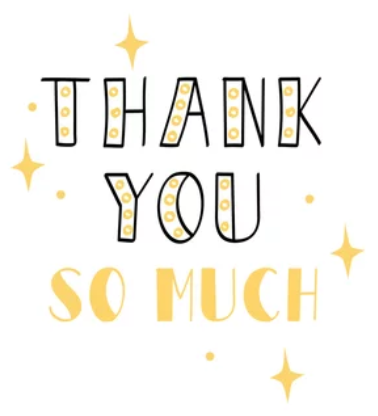 Today, paraprofessionals from numerous districts joined ROE 48 for a workshop to build understanding around behavior plans, working with stakeholders, and developing strategies to use with students. Thank you, Peoria area paraprofessionals, for a wonderful morning! #ROE48Learns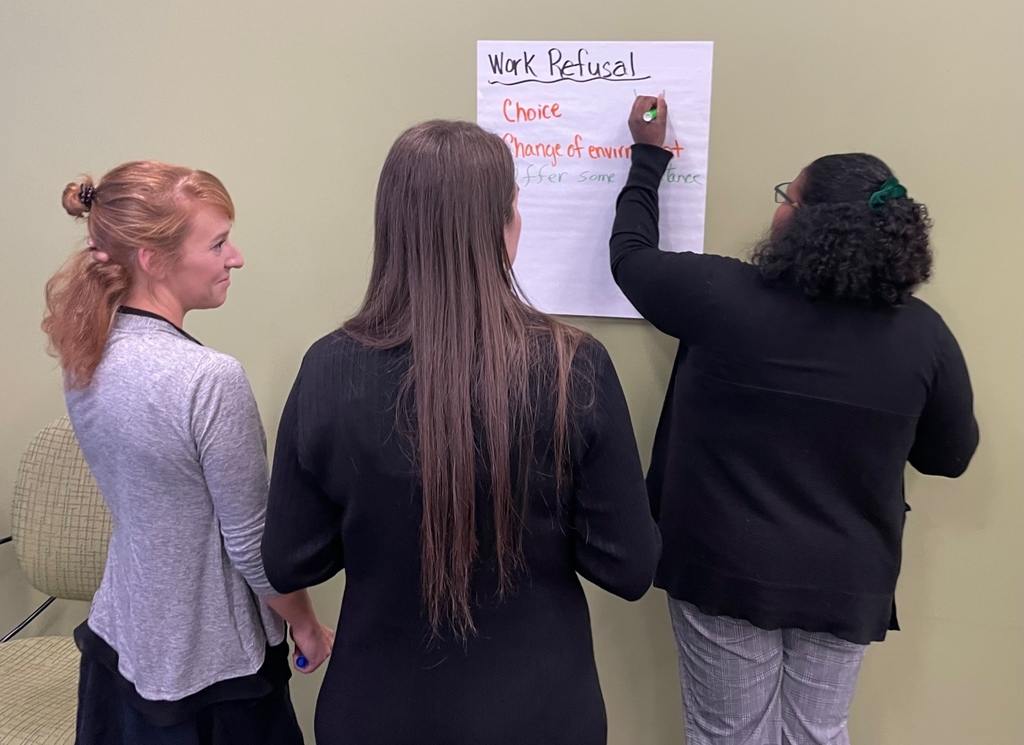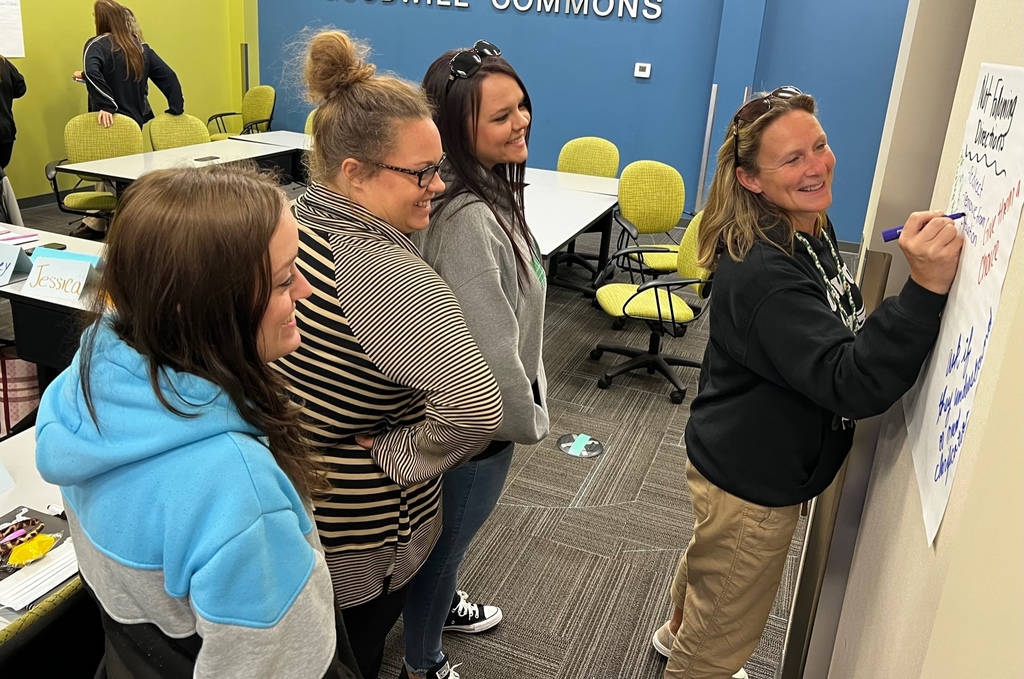 Research demonstrates that for children to succeed requires positive influences on each and everyone of them to ensure their social and emotional needs. We are all more successful when we are happier and more positive. ROE 48 is thrilled to provide you with a FREE online opportunity to participate in a very popular course, Optimistic Households, led by Shawn Achor. Shawn is a Positive Psychology expert, who provides six modules to help us set a foundation for the social and emotional well being for our Peoria ROE students and families. You can access this training now at
https://www.peoriaroe.org/page/optimistic-household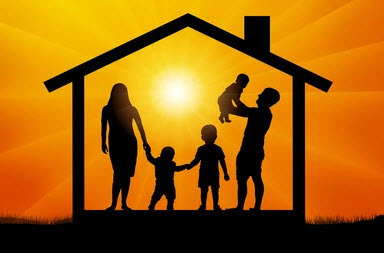 There's still time to join our online book study for "Lifelong Kindergarten," which starts this Monday, Oct 3 and ends November 20. This book study will help you understand the connections between creativity and approaches to learning in school classrooms while reflecting upon your own beliefs and philosophies surrounding student learning and teaching. Cost is only $30, and you'll earn 12 PD Clock Hours upon successful completion. You will need to purchase your own copy of the book. Enroll today at
https://peoriaroe.pdx.catalog.canvaslms.com/courses/book-study-lifelong-kindergarten
We hope you'll join us for this exciting journey!

WIU is hosting a PE Professional Conference on Friday, October 14. Please register by October 7.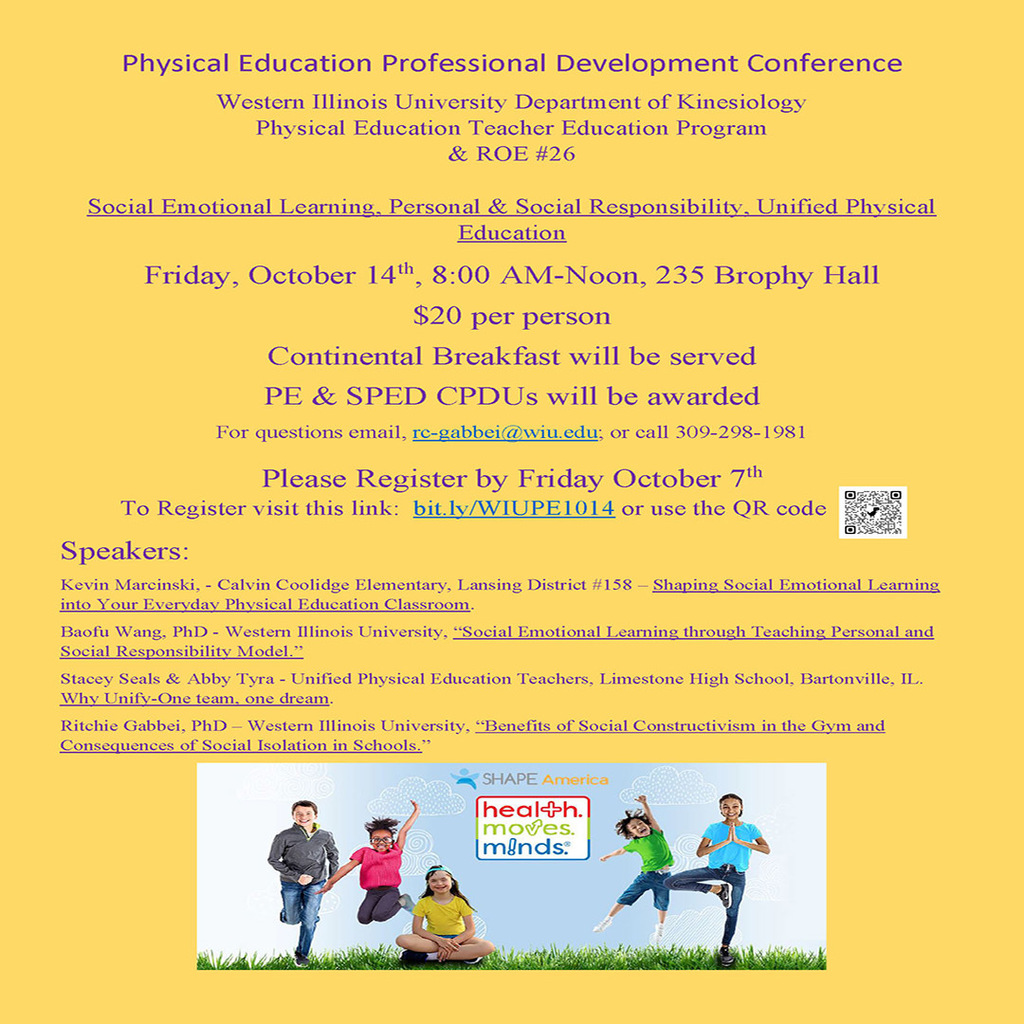 Peoria Regional Office of Education is looking to hire educators for both Preschool For All (ages 3-5) and our new Prevention Initiative Program (Prenatal-3). Positions available include: -Preschool Classroom Teacher -Preschool Paraprofessional -Preschool Nap Assistants -Preschool Substitute Teachers/Paraprofessionals -Preschool Instructional Leader -Prevention Initiative Home Visitors All positions require certification through the Illinois State Board of Education or Gateways Credentialing. Competitive pay and benefits included. Please submit letters of interest and resumes, as well as questions related to the job posting, to Jacqui Jones at
jjones@peoriaroe.org
.

Join ROE 48 for our free October webinar: National Board Certification! Learn about National Board Certification, the research-based process towards certification, the ISBE subsidy for certification, and how Peoria area educators are supported in their National Board journey. Register here:
https://peoriaroe.pdx.catalog.canvaslms.com/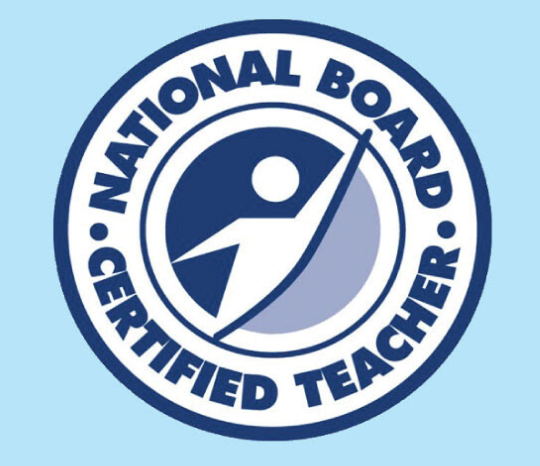 The Peoria ROE is very excited to be a part of the new vision for Peoria County's Health and Human Services Campus coming late 2024. Our offices will be consolidating and moving as we join the Peoria City/County Health Department and the Peoria County Coroner on the site of the current health department once construction is completed. See more of the vision at
https://health-and-human-services-campus-peoriacountygis.hub.arcgis.com/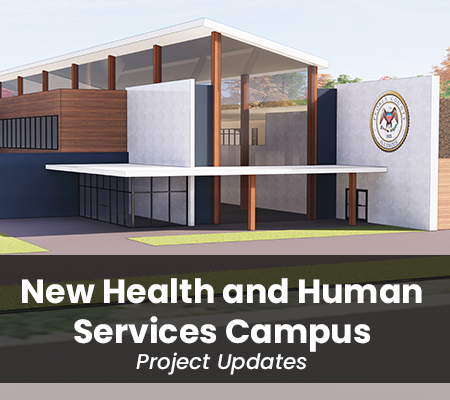 Congratulations to Hickory Grove and Ridgeview Elementary Schools in @DunlapSchools for their National Blue Ribbon recognition. What a tremendous team effort! ROE 48 was delighted to go to both schools this morning to drop off treats for the faculty and staff to enjoy in honor of their National Blue Ribbon designation! Click here for information on this recognition:
https://www2.ed.gov/programs/nclbbrs/index.html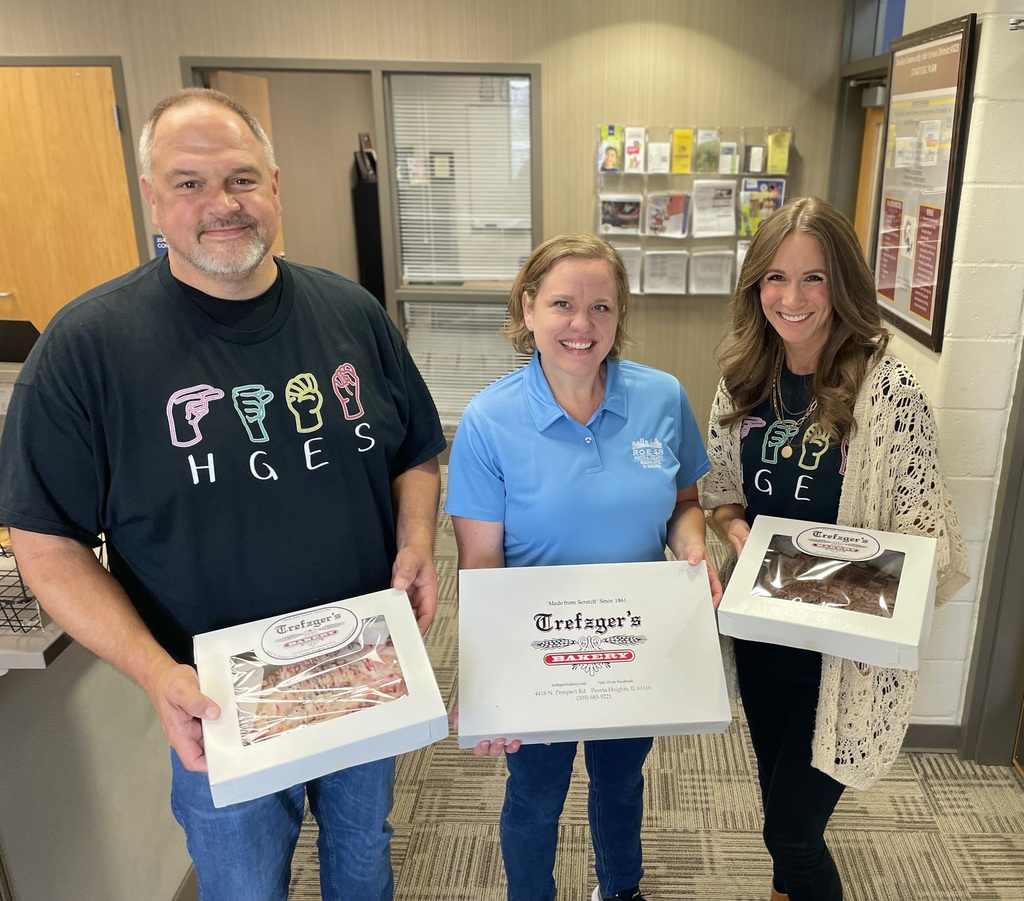 ROE 48 was excited to host our first New Educator Cadre this evening. New-to-the-profession educators came together to explore topics and areas relevant to the classroom. If you would like to join us next month, please register at:
https://peoriaroe.pdx.catalog.canvaslms.com/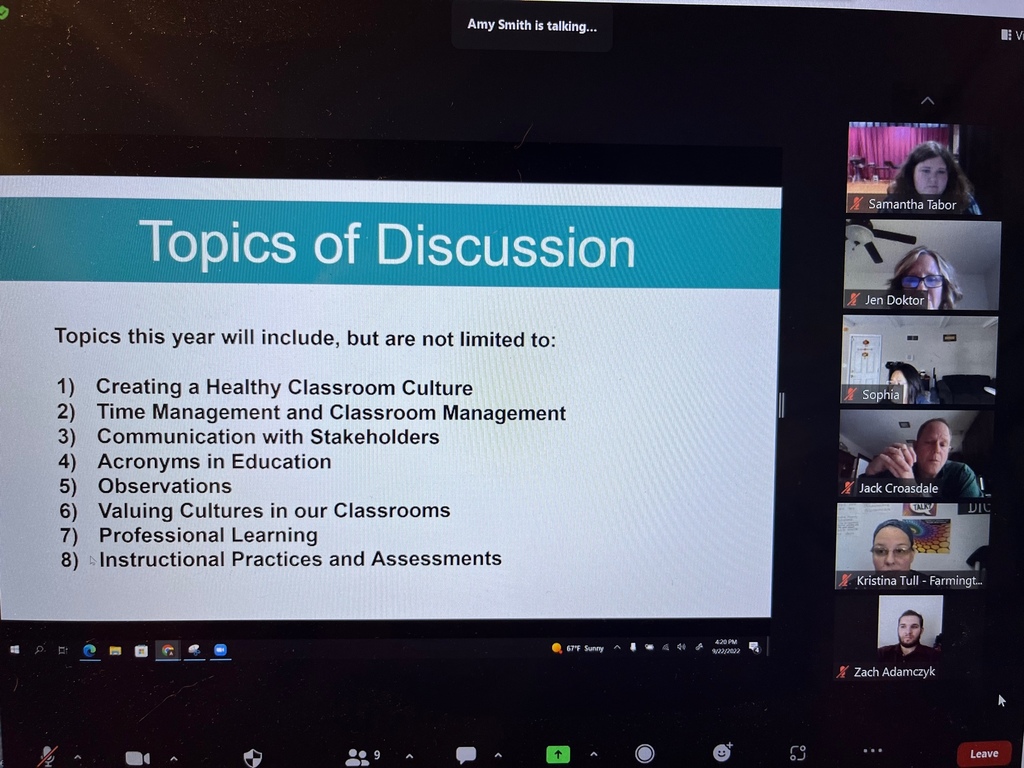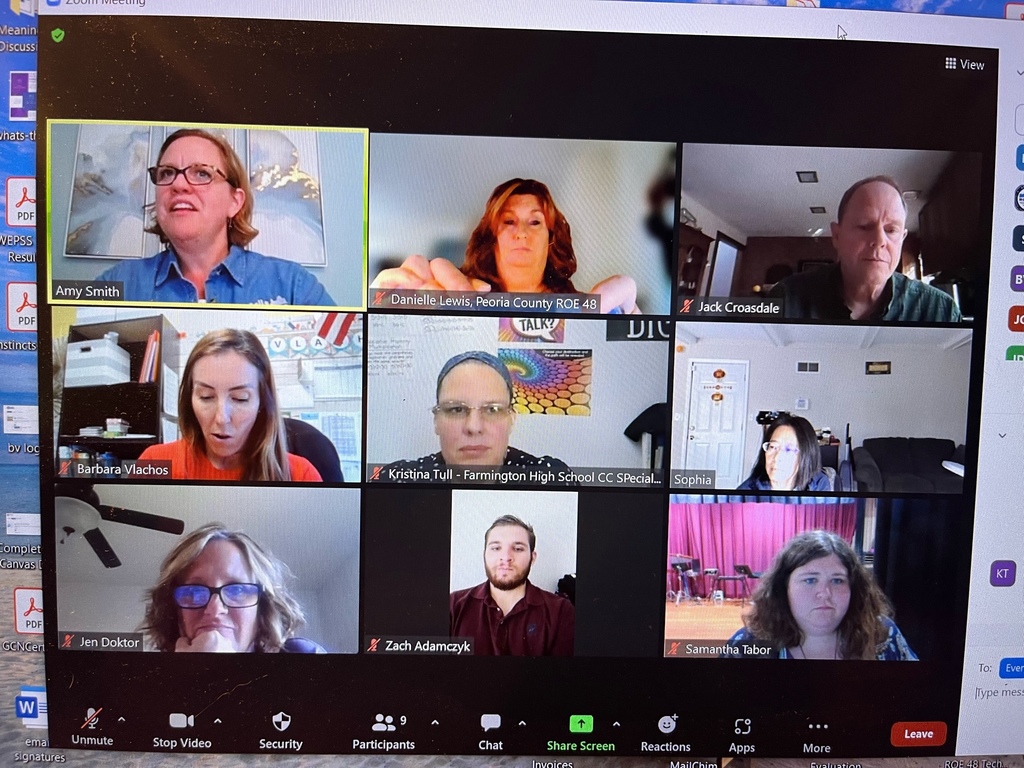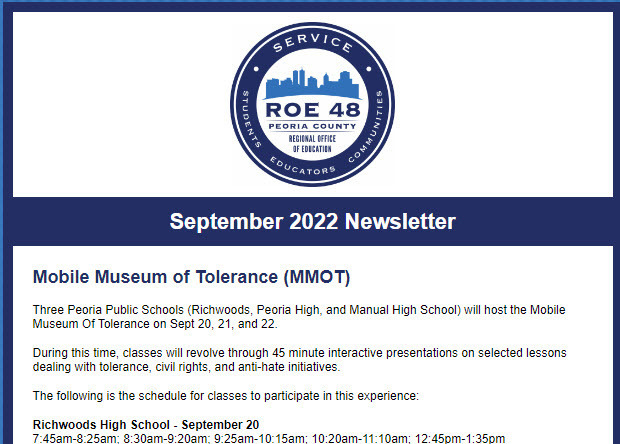 The Peoria ROE was proud to host the Simon Wiesenthal Mobile Museum of Tolerance. Students from Peoria High School were able to come aboard and learn about the civil rights movement from interactive conversation, a video, and an instructor.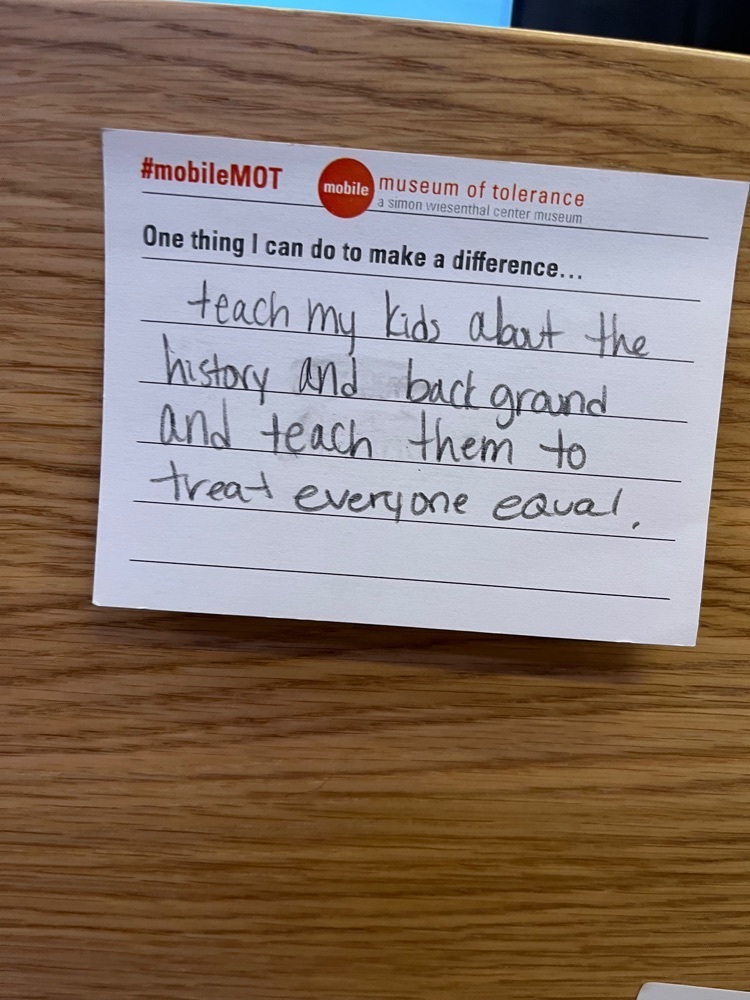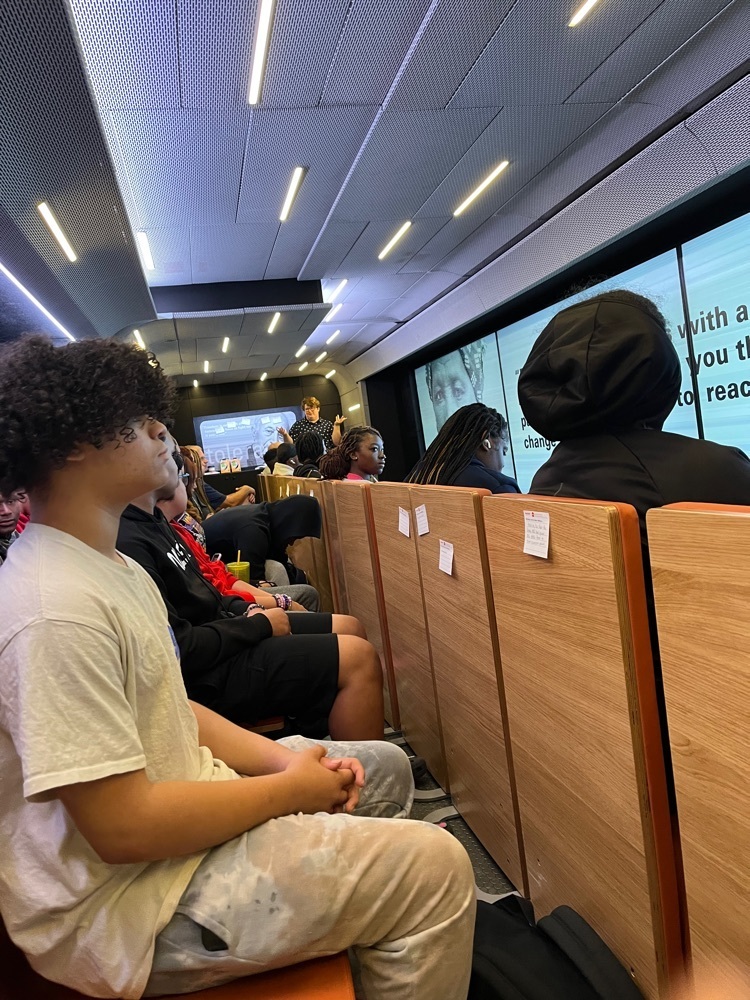 Join the Spring 2023 Principal Prep Cohort at Illinois State! This program leads to a Master's degree in Education Administration with a Principal's endorsement on your PEL. Apply by Dec 1st at IllinoisState.edu/Apply

Each year, National Hispanic Heritage Month is observed from September 15 to October 15. The histories, cultures and contributions of American citizens whose ancestors came from Spain, Mexico, the Caribbean and Central and South America are celebrated. Click on the link for classroom resources:
https://www.hispanicheritagemonth.gov/for-teachers/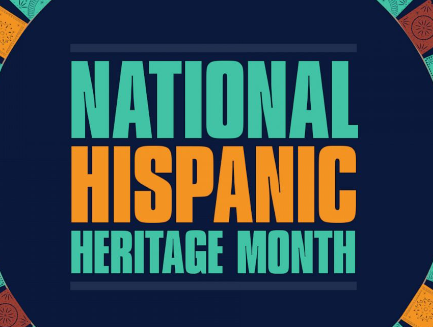 Due to high demand, IDFPR has added more opportunities for public servants to learn about the temporary waiver for Public Service Loan Forgiveness (PSLF) program.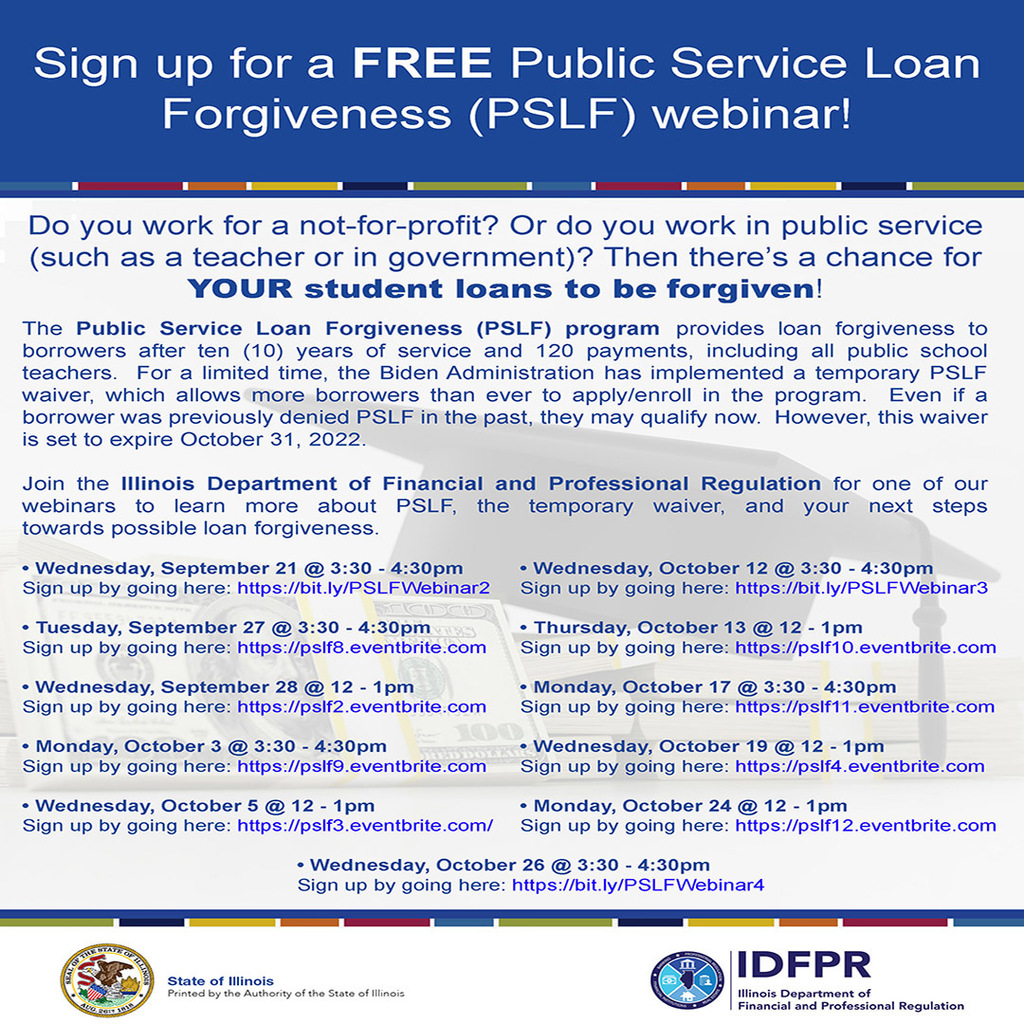 Paraprofessional Training ROE 48 is offering an in-person paraprofessional training on Thursday, September 29, from 8:30 am - 10:30 am at the Goodwill Commons in Peoria, IL. Click on the link for information and to register:
https://peoriaroe.pdx.catalog.canvaslms.com/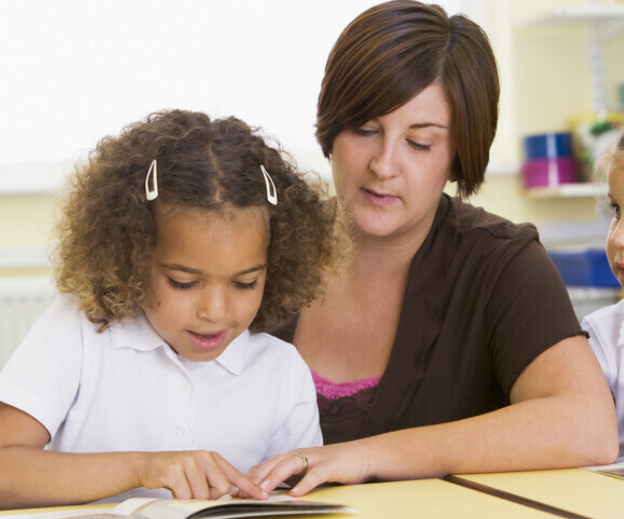 Do you know an area educator that you would like to nominate for ROE 48's Spotlight Educator? This is a new monthly feature! Spotlighted educators receive special recognition and hand delivered gift from the ROE! Complete the form today:
https://forms.gle/5oU7ZrToeJov86N66